Wholesale and Distribution
Leverage Smart IT's experience in the wholesale distribution market
We deliver transparency, collaboration and operational excellence across our clients' entire business and supply chains. We understand your unique challenges positioned between the manufacturer and the buyer.
Schedule a demonstration of Odoo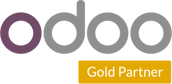 360-degree visibility of your operations
An Odoo ERP solution delivered by Smart IT enables automation across all levels, delivering increases to productivity and operational efficiencies delivering 360-degree visibility of your operations.

A solution from Smart IT provides you with the tools to manage whatever distribution channels and processes you use in your business. Our solutions enable maximum control and flexibility over operations and inventory. They are ideally suited to single and multi-site, plus domestic and international operations, where operational efficiency is fundamental to success.

Utilising Odoo ERP for distribution tightens controls and helps streamline inventory with tools that improve forecasting and planning by matching supply with customer demand. Whether you are an organisation with locations spread across the globe or a niche standalone operation, Odoo's functionality and efficiency will transform distribution and create limitless opportunities.
Arrange a call with a functional consultant
Clear benefits realised quickly…
Efficient financial management
Odoo ERP development for wholesale distribution renders effective financial management, enabling distributors to track financial records and retrieve relevant information speedily. It provides actionable insights and real-time visibility of financial processes and core accounting functions. The accounting module in Odoo enables wholesale distributors to create key performance indicators to track financial performance with metrics like auto-reconciliation percentage and total rejection rate. It easily integrates with proprietary Odoo modules or third-party modules like HRM, payroll, CRM, and billing/invoicing.
Enhanced operational visibility
A fully integrated ERP system for wholesale management must provide complete visibility in routine distribution tasks and on-site/off-site activities. Odoo provides a fully customizable workforce management module to keep track of routine operations, schedule tasks, check task progress, etc. It also streamlines picking, packaging and shipping services and renders seamless supply chain management activities while providing centralized access to real-time information.
Improved supply chain management
Odoo has a dedicated module for supply chain management that maintains a perfect balance between picking, packaging, shipping and receiving as well as procurement of stocks. The SCM module is of foremost importance to wholesale distributors who rely on shipping and logistics services for most of their operations. The Odoo SCM module facilitates effective coordination of supply chain activities, from the procurement of raw materials to the delivery of finished goods.
Increased productivity due to Inventory/warehouse management
Odoo ERP development for wholesale management gives you access to a fully integrated WMS module to run warehouse operations efficiently. Besides, it keeps track of inventory movements and provides up-to-date information about current stock levels. The module also facilitates accurate inventory forecasting and aids in preventing stock outages, backorders, and overstocking issues.