ERP Services
Smart IT's service portfolio encompasses all the stages necessary for your company to increase productivity, improve business agility and profitability
Talk to a Functional Consultant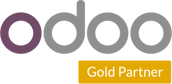 Smart IT's service portfolio
A successful ERP implementation can set your company on the right growth path—but it isn't just the platform that influences success. The services offered are the true differentiator in realising the true benefits of ERP.
Design and Customisations
Odoo provides a fully functional package to meet the requirements of an enterprise, but there are usually customisations needed to ensure the system maps exactly to a client's process.

At Smart IT we carefully analyse your business processes, identify the challenges preventing growth and any holes in the system and draft a conceptual architecture to deliver a complete system for your business.

Once the design is agreed we deliver high end customisation services to maximise ERP return on investment. For more information on our best practice approach to design speak to a functional consultant.
Find out more
Implementation
Our consultants have experience with implementations from a range of industries. They are there to also advise you how to modify your processes and workflows to streamline them and help you improve the base line efficiency of your business.

With years of experience working with Odoo ERP software and an all-Smart IT employed team of consultants and developers mean that we can ensure a fast and cost-efficient implementation ensuring the right configuration of the system with required customisations delivered on time and within budget.

Hear from our customers why they'd recommend you choose Smart IT as your implementation partner.
Find out more
Third Party Integrations and Apps
Third party integrations are increasingly a requirement as customers look to extend and customise the capabilities of business software.

Whether you've an industry specific integration in mind or a piece of legacy software that's business critical, then Smart IT can help. We can deliver flat-file, AP, one-way and two-way integrations. We can also develop bespoke applications and have several our own.
Find out more about Third Party Integrations
Upgrades
Whether you require further upgrades to keep pace with company growth or if you want to migrate to the latest feature-rich release of Odoo then Smart IT can help.

We upgrade some clients to the latest Odoo version annually ensuring that the existing processes and customisations continue to flow as before, whilst taking advantage of the new features.

Other clients upgrade on an ad hoc basis dependent on business requirement. We always ensure that data integrity, security and access are maintained. View infographic for the reasons customers choose Smart IT for their Odoo project.
View Infographic
Training and On-going Education
Training and on-going education are essential parts of successfully implementing a new ERP system and are critical for gaining the full benefits long-term.

Well-trained users are efficient, highly motivated, and often discover new ways to save time and improve business processes. With the Smart IT Odoo ERP Training Academy there are courses for all levels of users.

Learn how the Academy can make a real difference to your training experience.
Find out more
Support and Helpdesk
Smart IT has a UK-based support helpdesk manned by a team of technical consultants that understand your business. With proactive monitoring and remote screen viewing software, we'll be able to diagnose problems and resolve issues quickly.

Whether your team needs login help, customisation support, bug fixing or user assistance, Smart IT's helpdesk support is available. Find out why we have a 98% customer retention rate. Start a conversation with Smart IT today.
Find out more
Our Clients