Manufacturing
Are you seeking to cut costs, boost productivity, simplify processes, and make decisions faster?
Smart IT helps manufacturing companies design, manufacture, and distribute products in a timely fashion. Access appropriate methods that optimise resources such as materials, machinery, tools, etc. And satisfy your customer's expectations regarding quality and delivery.
Read our Case Studies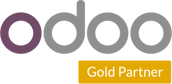 Smart IT's service portfolio includes:
If you are a growing business or a mid-market SME in the manufacturing industry, Smart IT can help you with Odoo based systems that manage every stage of your production processes.

Whether you are an equipment manufacturer, a supply chain provider of high-tech engineering components, or you operate production lines for the food and drink industry, we can work with you to design end-to-end systems. The result is significantly increased productivity.

Odoo provides all the elements that are required to run a successful business. From the initial processing of customer orders through to warehousing, stock management, and delivery, modular Odoo systems will integrate your processes, so your business runs more smoothly and is managed via one platform. Our consultants will work with you to understand your operational processes and map these to the Odoo system. As a result, you can make substantial efficiency savings.
Download our manufacturing brochure
"Anything which gives us an edge or point of difference is worth exploring. With clever use of Odoo technology and software development support from Smart IT, we can improve the consistency and quality of our product."
The Wild Beer Co
Our integrated workflow processes implemented with Odoo can cover all stages of manufacturing production, including:
Order processing
Automated production line technology
Stock management
Supply chain integration
Integrated e-commerce functionality
Realtime management information systems
Warehousing and distribution
Logistics and delivery management
Tootega Case Study
A boutique canoe manufacturer, Tootega, retained Smart IT's services. Tootega required customisations and automation to speed up its internal processes and improve its customer service experience.
View our Case Studies
Key features of Odoo Manufacturing:
Odoo solves several challenges and provides large scale benefits to manufacturers to manage growth, increase productivity, reduce cost, and increase efficiencies across the production process.
Manage your products into assembly lines or manual assembly.
Launch production of items needed in the final assembly of your products.
Disassemble a finished product and recuperate components.
Get a clear view of your whole planning and easily reschedule manufacturing.
Have access to all available resources and plan ahead with your production.
Set a Bill of Materials within another to manufacture components of a product in another Bill of Materials.
Create new routings for work orders to sequence your production depending on the routing used.
Allow your products to evolve and add configurable options when creating orders.
Whether you use lots, serial numbers, or unidentified products, you can use barcodes to speed up operations at every step.
Use make-to-order rules, minimum stock rules or the master production schedule to automate procurements. Let the scheduler compute everything for you. Use routes, constraints, and lead time to optimise inventory level, avoid shortages and overstocking.
Control your productivity with real-time Overall Equipment Efficiency (OEE) reports and monitor the six big losses of TPM. Track maintenance KPIs like MTTR and MTBF. Create customised dashboards to monitor performance in real-time.
Dynamic reports on everything from costing to traceability, performance analysis, OEE and more help you make smarter decisions about your business.
GTT Case Study
We worked with GTT, an enclosure manufacturer. GTT turned to Smart IT to design an end-to-end manufacturing system to allow staff to monitor stock management, sales, orders, and billing processes at the click of a button. Find out how GTT now has access to real-time information and the ability to look at current business performance on a single, easy to use online platform.
View our Case Studies