About Smart IT
UK's most trusted Gold Odoo partner
With more than 150 projects successfully completed, we are the UK's largest and most accomplished Odoo Gold partner.
Play Video
Download Brochure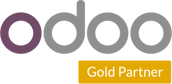 We transform business with
innovative ERP solutions
With more than 150 projects successfully completed, we are the UK's largest and most accomplished Odoo Gold partner and one of the channel's fastest growing in Canada. We transform businesses with innovative ERP solutions delivered by our UK based, in-house consultants and developers, helping businesses operate efficiently and achieve competitive advantage.

At last count we had 14 Odoo certified consultants directly employed by Smart IT. Our consultants are skilled on Odoo v15 and all have either passed or working towards this latest accreditation.

We are dedicated to helping our customers achieve success and our accreditations and certifications are a testament to this ongoing commitment.
Start a conversation with Smart IT today
Here are some of the reasons our clients continue to work with Smart IT:
In-house development capability
We have excellent in-house Odoo development capability with a 15-strong software team directly employed by Smart IT – unlike many of our peers who outsource programming work abroad, often to unaccredited suppliers.
Established Odoo practice since 2011
We launched our Odoo practice in 2011. With over ten years' experience of Odoo implementations and thousands of hours of consulting, we continuously look for ways to improve our relationships with our clients.
Extensive service offering
Our commitment to your company doesn't end once your new system is up and running. We offer a wide variety of services for existing clients, including on-site training and ongoing technical support.
Multi-talented team
Our staff includes senior consultants, software engineers, project managers, and support technicians with an average of twelve years' experience.
Customisations to fit your business model
We have the development know how to make sure the system you purchase from us fits your business like a glove. No customisation request is too simple or too complex.
Odoo certifications
As the leading Odoo Gold partner in the UK we have 14 Odoo certified consultants – this is more than any other partner in the region. We have made it a requirement for all new consultants joining Smart IT to be upskilled and through the Odoo certification programme within three months of joining Smart IT.
Full support services
We offer full-service desk support with extended hours as standard. Client collaboration and communication is provided through a bespoke portal built on the Odoo platform.
Project methodologies
We have very strong and well-established project methodologies developed specifically for Odoo.
"Smart IT really have become part of the Zelus team and 'own' projects like an employee would. The passion displayed by individual members of staff is truly engrained in the company culture. Smart IT is effectively managing the IT transformation of our business. We can't fault them."
Conor Wright, Financial Controller, Zelus Sports
Hear what our customers say about us
Our Clients